Yellowstone & the Tetons: American Safari
Yellowstone & the Tetons: American Safari

The heart of Yellowstone beats with nature's gems... furred, feathered, smoldering and sculpted... in moving tableaus wild and wondrous. Venture into the wilderness with naturalists passionate about the landscapes you'll explore – and the grizzlies, wolves and elk you'll encounter. The excitement heats up during a stay next to Old Faithful... on geology walks to bubbling geothermal wonders... on a whitewater rafting trip and interpretive hikes in Grand Teton National Park... and during visits to museums and ranches where the West really comes alive on Tauck's Yellowstone American Safari Vacation.
We're a company, and a family, of passionate travelers. As a family-owned travel company for over 97 years, our values and vision remain true: always do the right thing. Deliver more than what's expected. With journeys across 7 continents, in over 100 destinations and to 70+ countries, we keep moving forward to find new ways to enhance travel experiences that will be memorable for a lifetime – and we're honored to have the trust and guest satisfaction to be named to Travel + Leisure's "World's B
...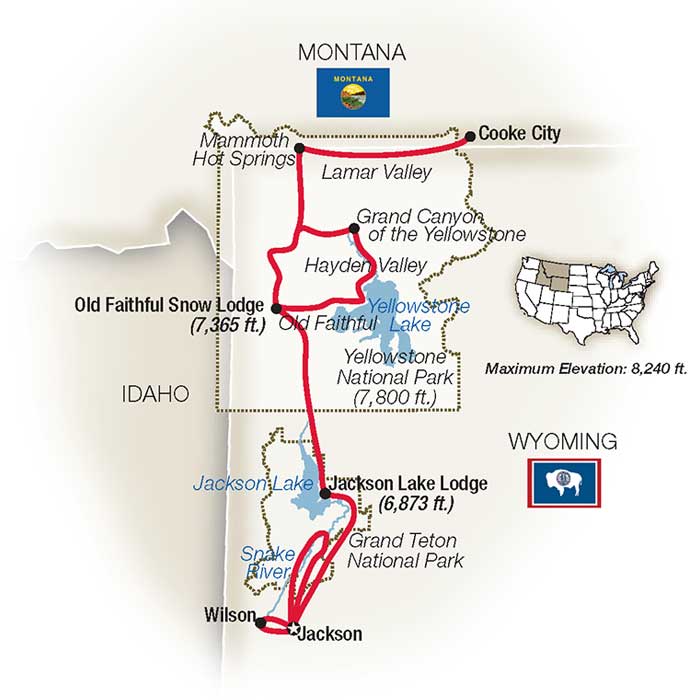 Day
Destination
1
Jackson, Wyoming
2
Jackson, Wyoming
3
Yellowstone National Park, Wyoming, USA
4
Yellowstone National Park, Wyoming, USA
5
Yellowstone National Park, Wyoming, USA
6
Yellowstone National Park, Wyoming, USA
7
Grand Teton National Park, Wyoming, USA
8
Grand Teton National Park, Wyoming, USA
9
Jackson, Wyoming