Southwest Native Trails End Albuquerque with Balloon Fiesta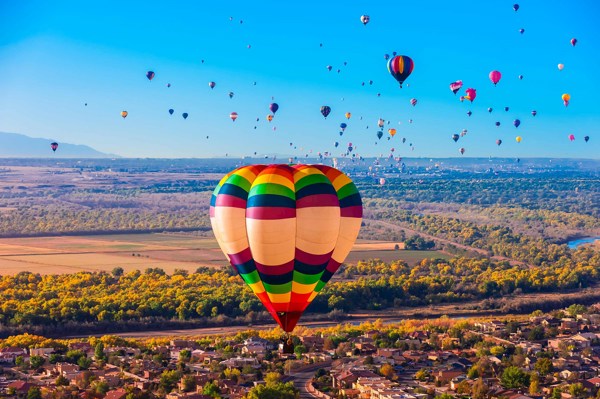 Southwest Native Trails End Albuquerque With Balloon Fiesta
This complete immersion in Native American heritage will delight anyone who is interested in this rare opportunity to delve deeper into the captivating culture, traditions and history of the Ancestral Puebloans who once thrived in America's Southwest landscapes. This itinerary will include the Albuquerque Balloon Festival, the largest hot air balloon festival in the U.S., and end in Albuquerque.
Dining Summary
7 Breakfast (B)
1 Lunch (L)
2 Dinner (D)
1 Farewell Dinner (FD)
Be My Guest
Santa Fe: Enjoy a traditional feast day meal at the Robinson Property prepared by elders, including traditional stews and deserts.
Dive Into Culture
: Visit Trujillo's weaving shop and admire the New Mexico weaving tradition that dates back to Spanish Colonial times. Learn about the Trujillo family, whose members have been weavers in the Chimayo tradition for eight generations.
Iconic Experience
: See the graceful red sandstone arch geological formation for which the capital is named Tségháhoodzání (Window Rock). The small Memorial Tribal Park is not only home to Window Rock, but also to the Veterans Memorial, built to honour the many Navajo people who served in the U.S. military.
Canyon De Chelly National Monument: See an ancient community built into a sandstone cliff as you peer over the edge of the White House Overlook to see the mastery of Ancient Puebloan construction. Watch nature defy gravity when you encounter Spider Rock and hear the legend of the mythical Spider Woman who is said to live in this towering stone spire.
Bluff: Visit Hovenweep National Monument, one of the most intriguing pre-historic settlements in the Southwest, known for its six major villages and more than 300 additional sites within the National Monument.
Taos: Experience Taos Plaza, a Historical Landmark and artist colony in the heart of the Taos Historic District, home of 65 galleries, shops, restaurants, and 21 landmarks.
Taos: Explore Taos Pueblo with Local Specialists who call Taos Pueblo home. Gain insight into the history of the pueblo and what it is like to live there today.
: Cross the Rio Grande Bridge, a steel deck arch bridge, roughly 600 ft above the Rio Grande and one of the highest bridges in the United States.
Taos: Journey through arid landscapes as you travel along High Road, a cultural and geographical feast for the eyes. Arrive in Santa Fe, the 'City Different' and one of UNESCO's Creative Cities Network, as City of Design and City of Crafts and Folk Art.
MAKE TRAVEL MATTER®
Chaco Canyon National Historic Park: Stop at the Chaco Culture National Historical Park Visitor Center, and enjoy a picnic lunch with a Local Specialist.
Canyon De Chelly National Monument: Meet a Navajo Local Specialist and take 6X6 vehicles to the bottom of Canyon De Chelly for the most incredible natural sites.
Monument Valley: Make Travel Matter on a journey through the desert to Monument Valley Navajo Tribal Park, where you will board all-terrain vehicles to explore the valley with your Navajo guide.
Mesa Verde: Visit the Canyons of the Ancients Visitor Center and Museum, Southwest Colorado's leading archaeological museum, displaying exhibits on archaeology, local history and Native American cultures.
Santa Fe: Meet Emigdio Ballon the agricultural director at the Tesuque Pueblo Community Farm. Learn about this Indigenous community and their efforts to achieve food sovereighty by preserving heirloom seeds and by growing their own food.
Santa Fe: Visit the 50-acre property on a private tour with local specialist to see some of Allan Houser's most amazing works known for his magnificent sculptures and paintings depicting various Indigenous tribes.
Must-see Highlights
: Explore Pueblo Bonito "Great House" and the North Rim scenic drive with a Local Specialist
: Visit Petroglyph National Monument, Chaco Canyon National Historical Park, Hubbell Trading Post National Historic Site, Hovenweep National Monument, Canyon of the Ancients National Monument, Canyon de Chelly National Monument, Monument Valley Tribal Park, Mesa Verde National Park, Durango, Taos Pueblo, Santa Fe, Tesuque Pueblo, Bandelier National Monument
: View Square Tower Unit at Hovenweep, Chaco Canyon's White House, Bandelier National Monument
: Scenic Drive along Colorado's Trail of the Ancients National Scenic Byway
Trafalgar Difference
Gallup: Your Stay with Story is the historic home to many starlets from the 'Western" genres of the 1930's - 40s.
Durango: Stay at The Strater Hotel, adorned with beautiful handcrafted woodwork, housing the largest collection of American Victorian walnut antiques. It's Durango's Historic Landmark Hotel, showcasing stories of the old west and mining times.
Whats Included
: An expert Travel Director and professional Driver
: Cherry-picked hotels, all tried and trusted
: All porterage and restaurant gratuities
: All hotel tips, charges and local taxes
: Breakfast daily and up to half of your evening meals
: Must-see sightseeing and surprise extras
: Audio headsets for flexible sightseeing
: All transport and transfers shown
: Luxury air-conditioned coach with Wi-Fi in most countries or alternative transportation (such as rail journeys)
: Optional Experiences and free time
Whats Included
An expert Travel Director and professional Driver
Cherry-picked hotels, all tried and trusted
All porterage and restaurant gratuities
All hotel tips, charges and local taxes
Breakfast daily and up to half of your evening meals
Must...
Tour Differently isn't just what we promise, it's what we deliver.
Dream holidays without the stress of the 'what ifs', is what we do. We design our tours so you can experience the world differently. You'll get the personal service, attention to detail and ease you're looking for, while enjoying the unmissable experiences you've always dreamed of. Discover why Trafalgar tours have been trusted by 5 million guests and are proud to deliver the very best tours that you'll cherish for ye
...