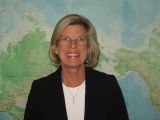 I have been a Travel Consultant since 1997 and joined the European Travel International family in January 2008.

I enjoy traveling with my husband to new destinations as well as frequenting our tried-and-true favorites. As long as it includes a good time and soft adventure, I am game for anything! My passions are hiking and snorkeling; and if the destination is anywhere near the water all the better. The South Pacific, specifically Tahiti and her Islands, rank #1 on my list of favorites!

As you may have guessed already, my favorite destination is anywhere with beaches! I have extensive knowledge of each of the Hawaiian Islands as well as the Islands of the Caribbean, South Pacific and the most popular beaches in Mexico.
My first-hand travel experience can match you with the Island or beach vacation you've been dreaming of!
email me: