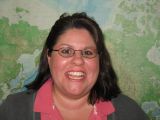 I have been with European Travel since 1992, so I truly feel like part of a growing family! I specialize in cruises and escorted vacations. My designations include NCL (Norwegian Cruise Lines) Specialist, Niche Cruise (NCMA) Specialist, and Contiki Tours Specialist.
Although my husband, Jim, and I are adventurous in spirit, we tend to be homebodies when it comes to traveling. We enjoy exploring in our own backyard, so to speak, and along with our two children, who are car-approved, we make a lot of roadtrips. Because of our kids, we tend to choose family-friendly destinations; Florida is one of our favorite places, and many of our weekends include a "quick trip" to Fabulous Las Vegas, a city I know intimately!
We took a big family trip to Alaska with Princess Cruises. What an adventure that was, and quite a sight to see, especially from the deck of our beautiful cruise ship! This is definitely a place we want to revisit soon.
Please contact me:
SE HABLA ESPANOL!