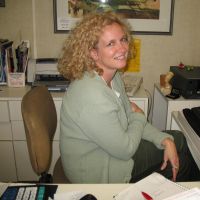 My parents opened European Travel in 1978. I started working in the office in 1980, while attending an ROP class through high school. Through that class, I learned nearly every facet of the travel business, from reading airline tariff guides, to handwriting airline tickets, to negotiating the agent/client relationship.
In the office, my mother handled travel accounts and administration, and all the bookkeeping. My father hosted tour groups to South America and South Africa. While attending UC Riverside, I hand-delivered airline tickets to University accounts. After graduation I joined my parents here, and although I tried to move and work elsewhere, I was always drawn to this business and have made my career here in Riverside, in my family's agency.
I enjoy traveling myself, and did a lot of it with my father while growing up. Although I stopped while raising my family, I was re-infused with the travelbug when I re-married. Together, my husband, Hansjorg, and I have traveled within the U.S., and we've both traveled quite extensively in Europe. South Africa and New Zealand are on both of our lists of places to visit and we look forward to discovering them together.
Since ETI merged with Riverside Travel Service, Inc. in January, 2008, and with our client base obviously changing and growing, we have the need to focus on business marketing which proves to be very challenging. Marketing has changed so much in the last few years! However, I enjoy the challenges of my chosen career and I still tremendously enjoy working to give my valued clients the vacation of their lifetime! With one of my sons now in the Air Force, and the other rapidly growing up, I am hoping to focus more on niche markets, such as luxury and/or specialized cruises and tours, and I would like to lead some groups abroad in the near future.
Please visit my blog, Friends at First Flight; www.travelqueentwo.blogspot.com. Although my blog's focus is about the happenings in the life of a travel agent, all aspects of travel can be talked about there; please feel free to comment or add to the discussion!
My email address:
Wir Sprechen Deutsch!